Pizzerias battle in pet-friendly Atlanta Pizza Wars event in Alpharetta
by Erika Wells
November 18, 2015 04:06 PM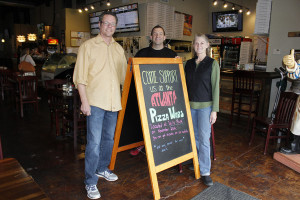 Bill Garst, left, with Pet Pages Atlanta, and Mary Gayle Wright, far right, publisher of the magazine, meet with Mama's Pizza owner Jimmy Vavaroutsos at his Alpharetta restaurant. (Staff / Erika Wells)
Pizzerias will compete against each other to determine who has the tastiest pies while raising awareness for pet organizations at the inaugural Atlanta Pizza Wars in Alpharetta this Saturday.
About 2,000 to 3,000 people are expected to attend the rain-or-shine event, said Bill Garst, who works in marketing and sales for the Pet Pages Atlanta. The magazine and go-to guide for pet owners, which was established about three years ago, will present the event.
It will include children's activities, dog games, demonstrations, pet vendors and nonprofit rescue and adoption organizations and more. Pets are welcome but must be on a leash.
"We just tried to take everything that is about the family and combine it into one [event], and we couldn't put on an event that is not pet-friendly," Garst said.
The event will take place at Wills Equestrian Park, 11925 Wills Road, from 10 a.m. to 4 p.m. with categories for Best Specialty Pizza, Best Cheese Pizza and Fan Vote. Each winner will receive a custom, engraved wrestling belt.
Celebrity judges include Victoria Stilwell, dog trainer and star of the TV show, "It's Me or the Dog"; Blake Rashad, an expert dog trainer; fashion model and owner of Bark Fifth Avenue Ashley Daniele Carestia; and Bob Otis, owner of Lose a Finger all-natural dog treats.
Garst said 20 percent of the proceeds from tickets sales will go to charity.
The nonprofits include Fur Kids, Atlanta's largest no-kill animal shelter and rescue, and Ahimsa House, which helps victims escape domestic violence with their animals, said Mary Gayle Wright, publisher of Pet Pages Atlanta.
"This is a fundraiser to help as many of these organizations as we can," she said. "This time of year, they're all trying to raise money to get through the winter."
More than a dozen pizzerias will feature various menu items. Admission, which includes unlimited sampling, is $15 per adult and free for age 12 and under. Guests who purchase tickets online in advance will be entered to win a chance to become a judge. Alcohol must be separately purchased.
Jimmy Vavaroutsos, owner of Mama's Pizza, 5950 North Point Pkwy., in Alpharetta, will serve cheese and pepperoni pizza at the event.
"You really want to taste the sauce, the cheese and the dough before you start piling on toppings. … I just plan to keep it simple," Vavaroutsos said.
However, he plans to enter his specialty recipes into the competition.
Vavaroutsos said he looks forward to meeting new people but also hopes to sweep the contest.
"I think I'd like to unify the belts and have all three," he said with a laugh.
Vavaroutsos decided to participate to share his products with the community and because he and his wife, Linda, and their twin daughters, Sophia and Alexis, both 6, love pets.
Vavaroutsos said he tries to use natural products and offers everything from pizza and calzones to salads and hot subs and sandwiches and more. He also serves homemade gelato — Italian-style ice cream — in flavors including banana chocolate chip, Oreo, strawberry cheesecake, mango and cannoli. Shaved ice is available in popular flavors such as lemon, cherry, chocolate and blue raspberry.
The community has gotten familiar with the family-owned pizzeria, which has been in the area more than 35 years. The pizzeria has been at the current location for more than two years. It was on Old Milton Parkway for a decade.
Vavaroutsos said his father, Pete, started the business in 1958 in New York after emigrating from Greece.
The New York-style pizzeria has withstood the test of time because of its hospitality and consistency, Vavaroutsos said. The company has used quality ingredients from the same supplier for more than 50 years, he said.
"We try to offer top-notch customer service with everybody and make them feel like they're family," he said. "That's why we have such a great following."
For information, visit www.atlantapizzawars.com or call (470) 239-4088.